We live in an era of stagnation, rapid impoverishment, rising inequalities and socio-ecological disasters. In the dominant discourse, these are effects of economic crisis, lack of growth or underdevelopment. This book argues that growth is the cause of these problems and that it has become uneconomic, ecologically unsustainable and intrinsically unjust.
When the language in use is inadequate to articulate what begs to be articulated, then it is time for a new vocabulary. A movement of activists and intellectuals, first starting in France and then spreading to the rest of the world, has called for the decolonization of public debate from the idiom of economism and the abolishment of economic growth as a social objective. 'Degrowth' ('décroissance') has come to signify for them the desired direction of societies that will use fewer natural resources and will organize themselves to live radically differently. 'Simplicity', 'conviviality', 'autonomy', 'care', 'commons' and 'dépense' are some of the words that express what a degrowth society might look like.
Degrowth: A vocabulary for a new era is the first English language book to comprehensively cover the burgeoning literature on degrowth. It presents and explains the different lines of thought, imaginaries and proposed courses of action that together complete the degrowth puzzle. The book brings together the top scholars writing in the field with young researchers who cultivate the research frontier and activists who practise degrowth on the ground. It will be an indispensable source of information and inspiration for all those who not only believe that another world is possible, but who work and struggle to construct it right now.

The Editors: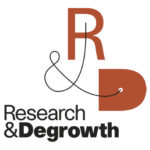 Giacomo D'Alisa is Research Fellow at the Autonomous University of Barcelona, Spain.
Federico Demaria is a Research Fellow candidate at the Autonomous University of Barcelona, Spain.
Giorgios Kallis is ICREA Professor at the Autonomous University of Barcelona, Spain.
The three editors are members of Research & Degrowth.
Download the foreign editions for free.

They said about the book:
"… 'Degrowth' for many signifies a variety of initiatives proposing an alternative to capitalist accumulation and the reconstruction of our reproduction on more cooperative terms. This then is a volume that those committed to building non exploitative relations will need to consult as it offers a map to the world of alternatives to capitalisms.  — Silvia Federici, Hofstra University, Hempstead.
 "At a time in history when political, economic and intellectual leaders assure us that nothing fundamental can any longer be questioned, nothing could be more important than the movement – of thought, and of action – that this volume on Degrowth represents…" — David Graeber, London School of Economics, London.
"This book is one of the most thorough and insightful presentations and discussion of economic theory and practice in the field of de-growth economics, a revolutionary attempt to understand the economy as if humans and Nature matter." — Manuel Castells, University of California, Berkeley.
"A thought-provoking, wide-ranging, spirited, and deeply original analysis; this book is a must-read on degrowth debates." — Karen Bakker, Universty of British Columbia, Vancouver.